We do have our own produced CD that is available for purchase. You can listen to samples of the songs below.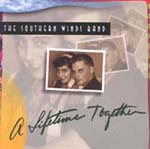 Cover of our CD
Sample of Our Songs
Click a song title to hear a sample of that song.
(This is the order of the songs on the CD).
To purchase our CD for $15.00, please visit us either when we are out at a Venue, or please contact Kevin Handy to have one mailed to you. If you prefer to have one mailed, the shipping and handling cost is in the $15.00.

© 2002-2009 Copyright The Southern Winds Band
All Rights Reserved